This monthly podcast sees Drs Adam J Smith and Jo Waugh talk about the form, function, future and history of satire.
Adam and Jo are be joined by a range of guests, including both scholars and practitioners of satire.
The podcast is available on the following platforms:
Or, subscribe using our RSS Feed: https://anchor.fm/s/ce96220/podcast/rss
You can also follow the podcast on Twitter and on Instagram.
---
Jo and Adam dish up a meaty treat for you to get your teeth into this spoOoky season, with a bumper Halloween investigation into satire's long-standing fascination with cannibalism. From Jonathan Swift's A Modest Proposal of 1729 (that the best way to solve the Irish famotine would be for absent English landlord's to eat the babies of their beleaguer tenants), to Chelsea G Summers' 2020 novel, A Certain Hunger, which features a nymphomaniac cannibal food critic, through to Gregg Wallace's even more recent documentary, Miracle Meat, which proposes solving the cost of living crisis by harvesting cheap meat from human stem cells, cannibal satire is a trope with a rich and tasting history. Adam and Jo also serve up some meditations on the close kinship between horror and comedy more generally, and take a look at the political horror of Channel 4's Partygate docudrama.
---
Jo & Adam draw this year's "Smith & Waugh Big Satirical Summer Read" to a close with a deep dive into the novel everyone is reading, Rebecca F. Kuang's Yellowface. What is it actually a satire of? How is the satire working? And to what extent is satire an appropriate tool for interrogating questions about race and representation in contemporary culture? Adam & Jo also dissect some of the more extreme responses to the novel, especially on TikTok. Elsewhere in the episode they also pay tribute to Look Around You, the excellent Robert Popper satire currently available on iPlayer, and discuss some of the controversy surrounding this year's Edinburgh Fringe Festival. Adam also shares a disturbing experience he had recently where a person he was dating turned out to be a Cheetah.
---
Jo and Adam take a deep dive into the film everyone is [being compelled to keep] talking about: Greta Gerwig's Barbie. Is it a satire, and if so, what are the its targets? Can you really critique the relationship between systemic capitalist patriarchy, gender stereotypes and artificial manifestations of female emancipation in a film which is itself a vast corporate endeavour designed to ensure everyone keeps buying and celebrating Barbies? What does it mean for a film literally made by Mattel to explicitly critique Mattel for encouraging children to fetishise consumerism, whilst also being released as part of the biggest film marketing campaign in recent cinema history? And does any of this enhance or diminish the film's satirical bite? Certainly there's lots to talk about, alongside Jo and Adam's own toy-related memories and a disturbing experiment with the "BAIrbie" A. I. Engine. Contains massive spoilers.
---

In a desperate bid to amass quantifiable impact for their research… Adam and Jo talk about the satire they've identified in their recent projects, both of which involve the relationship between literature and medicine. From 'living barometers' to 'fits of apoplectic rage', it seems when it comes to discussions of wellness and weather, satire is never far away. They also take a deep dive into the world of Winnie the Pooh to answer a recent listener question about the possible statues of Eeyore as a Juvenalian satirist. Also featuring the launch of the Smith & Waugh Satirical Summer Read 2023, in which you are all invited to join us in reading Rebecca F Kuang's brand new satirical novel, Yellowface.
---
---
Horatian, Juvenalian, Menippean? Jo and Adam examine some of the big satirical moments of the coronation of Charles III to work out what kind of satire they were, what they were targeting and, more importantly, whether or not they were funny. From "Poundland" Penny Mordant's big sword, to the spare Camillas and the King's revision cards, all the way through to the things that no other country can do, when it came to generating memes the British public very much rose to the occasion. Jo and Adam also consider the mainstream satire of Harry Enfield (The Windsors: Coronation Special), Frankie Boyle (Farewell to the Monarchy) and Stewart Lee ('God Save the King, but what about the Planet', The Guardian). Along the way they also pause to dwell on bigger questions: what is Menippean satire? What does it actually mean to swear allegiance? And is it a corrigible or incorrigible fault to have a big nasty face for genitals?
---
Jo and Adam prepare to celebrate the momentous, landmark, historic event everyone is talking about… that's right: their 50th episode! This time they're talking about satire and privilege, as seen in Otessa Moshfegh's stratospherically popular novel My Year of Rest and Relaxation (2018) and the recent films (now available for streaming on Amazon Prime and Disney Plus): The Menu (2022) and The Triangle of Sadness (2022). They also share their plans for the other (perhaps equally significant) occasion on the horizon – the coronation of King Charles III (who is here for a good time, not a long time) – and experiment with branching out into the weird world of ASMR.
---
Jo and Adam speak to Drs Jasmine Jagger and Heather Hind, curators of '⁠Comic Women's Poetry of the 19th Century⁠': an ever-growing, open access digital archive which, at the time of writing, holds over 1000 comic poems written by more than 200 19th-century women. After talking about the enormous volume of hilarious and prescient comic works that Jasmine and Heather have found, Adam and Jo return once again to the question of why it is that – if so many women have been doing so much satire all this time – satire is still considered to be (and to have always been) a man's game. Perhaps, they suggest, it is because the figurative language used in so many (male-authored) definitions of satire is coded as masculine, creating a critical blind spot in which generations of readers and scholars have failed to recognize that women have been engaging in satirical behavior all along… Jo and Adam also talk about Skinner & Minner's Literary Journey: Pope & Swift on Sky Arts and compare the shocking leaked covid-era Whatsapp messages of key government officials with a series of parody Whatsapp messages of key government officials published in Private Eye magazine a year earlier.
---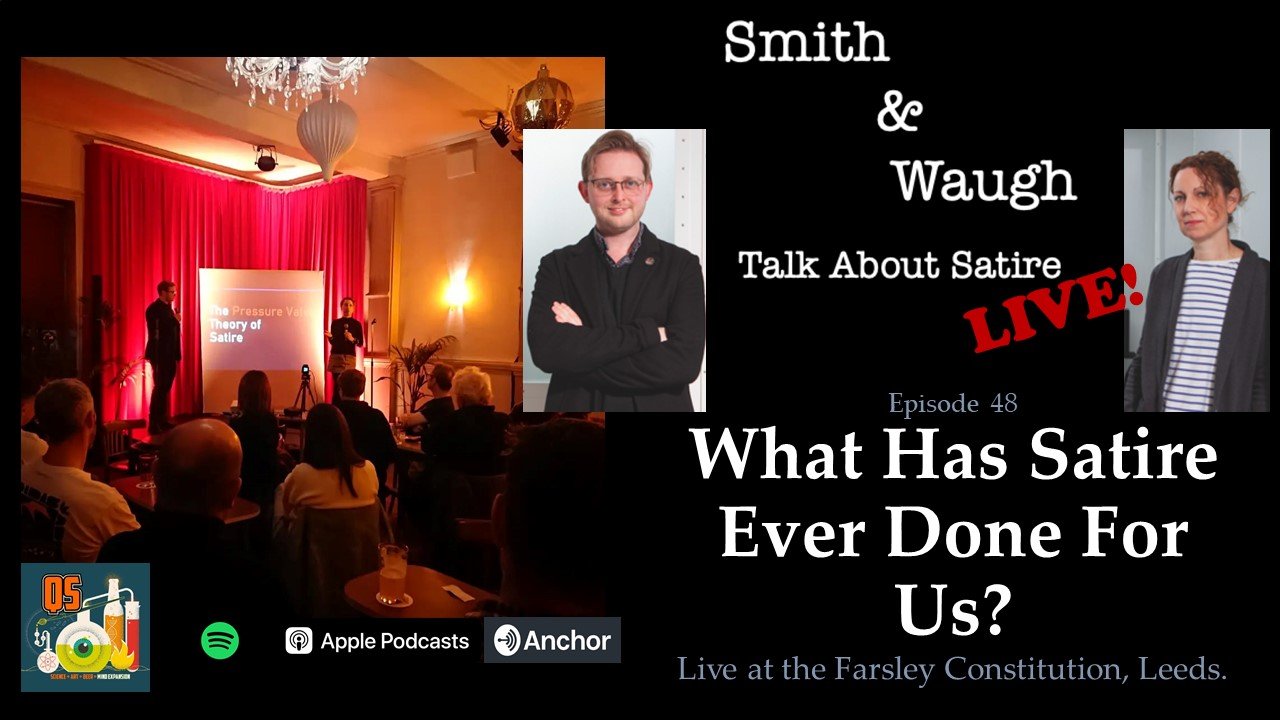 In a very special episode, join Jo and Adam as they perform a set at the Farsely Constitutional in Leeds in late October 2022. And the question Adam and Jo decide to tackle, unscripted, in front of a live, public audience is: What has satire ever done for us? Satire is great at calling things out, but has it ever actually – even once – ever made an actual difference? To answer the timeless quandary, Jo and Adam share a series of case-studies from the history satire and try to determine whether or not they changed anything. These include a ghoulish satirical hoax (18th century), a sustained campaign of satirical harassments (19th century) and the satirical saturation point of Boris Johnson (2021-22), among others. Special thanks to Dr Adam Booth for giving us this opportunity to talk about satire LIVE as part of his "Quantum Sauce" series.
---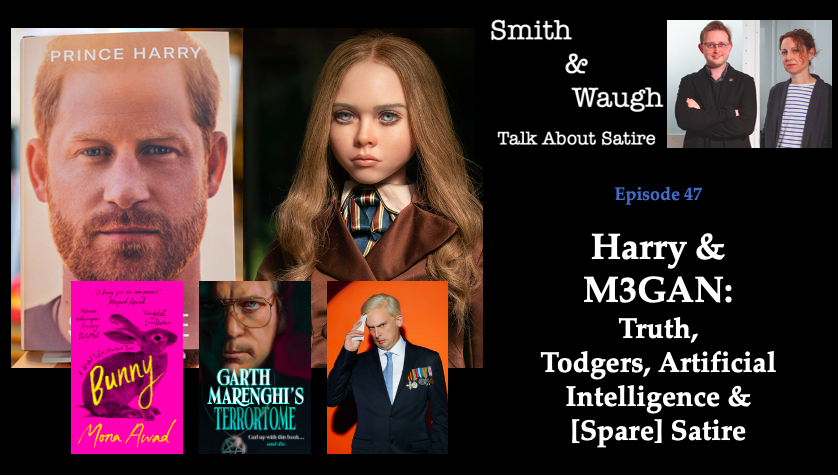 Satirists ricochet, take their aim, and fire away, fire away at Harry, Prince Andrew, MFA students and horror writers. This month, Adam and Jo discuss Spare and M3GAN, and discover a surprising amount of parallels with two other satirical novels: Garth Marenghi's "Terrortome" and Mona Awad's "Bunny". Truth, todgers, AI, and the creative process feature throughout the show. Also, what would the podcast sound like if it were scripted by ChatGPT? Host One and Host Two find out.
---
Would you like to hear a (satirical) Christmas story? Then wrap yourselves up warm, settle down, and listen as Mama Satyre tells a heart-warming festive tale that has to be heard to be believed… That's right! It's that most magical time of year: time for the annual Smith & Waugh Christmas Special! Join us for the story of Snarky, the human boy inexplicably raised as a Satyre (a male nature spirit with ears and tail resembling those of a horse and a permanent, exaggerated erection), a thorough investigation into whether or not The Crown and I'm A Celebrity are in any way satirical and our host's recommendations of two books to buy that satirical person in your life this Christmas: Christopher Wilson's Hurdy Gurdy and Rutu Modan's Tunnels. Merry Christmas to all and to all: Sit Up, Shut Up and Eat Our Satire! Ho ho ho.
---
Forty-five episodes into the podcast, the focus finally turns to Jo's specialist trivia subject: the life, work and legend of the Brontë sisters. Best known for their novels, poetry, their tragic and untimely deaths and for inspiring a song by Kate Bush, Jo reveals that the Brontës also have a fascinating (and entertaining!) relationship with satire. Charlotte, for instance, bitingly satirised her brother Branwell in her infamous juvenilia. The sisters and the biographical myths they inspired also been the targets, some of which are surveyed here. Adam and Jo also discuss the recent film Emily (not actually a satire, though you'd be forgiven for thinking it might) and Jo shares her vision for a new instalment in the Real Housewives franchise.
---
Jo and Adam take on the big questions: what is TikTok? What is irony? Is rain on your wedding day more ironic than ten thousand spoons when all you need is a knife, or not as ironic as that? Once this is sorted, they chat to novelist, poet, and regular SAWTAS guest, Leigh Stein, about her recent adventures on TikTok and her observations about the way its users respond to irony and satire (or don't). We chat about Colleen Hoover, Flowers in the Attic, and Leigh's forthcoming novel. Then Adam and Jo finally deliver their long-awaited Big Summer Satirical Read Round-Up, where they evaluate Julia May Jonas's Vladimir, John Boyne's The Echo Chamber, and Jean Hanff Korelitz's The Plot. Isn't it satiric – don't you think?
---
From the moment Joe Lycette appeared on Sunday with Laura Kuenssberg on 4 Sept and (ironically) offered the incoming Prime Minister a ringing endorsement, a veritable Tsunami of satire was unleashed across the UK. Wave after wave of satire swept through the internet. From the bin bag stuck on a the podium outside 10 Downing Street, to the This Morning Energy Bills themed Wheel of Fortune, to Chris Pine's disassociating face — suddenly everything was a once in a generation meme making opportunity. Jo and Adam are here to pick through it all in what was very nearly their most topical episode ever. [This episode was recorded on 8 Sept 2022].
---
This was going to be the Smith & Waugh Satirical Summer Reading Challenge episode, but after the summer news cycle was flooded with comedy headlines – almost all in someway dealing with controversy or cancellation – Jo and Adam have put their satirical fun in the sun on hold to think about one of the biggest questions in contemporary comedy: is it funny to say the unsayable? And, more to the point, is it satire? Together, Adam and Jo try to salvage some meaning from a series of fascinating events: Mock the Week is terminated, Jerry Sadowitz is cancelled [from the Edinburgh Fringe Festival], Frankie Boyle is triumphant [despite joking about sexual violence] and South Park celebrates 25 years on the air. Also featuring quick visits to Adam's "18th-century Observation Corner" and Jo's brand new "Gen Z Corner".
---
After a thoroughly uneventful week in British politics Jo and Adam struggle to think of any topical satire that they can meaningfully talk about… NOT! In the immediate wake of the "Pincher Affair" and the revelation that he met – unaccompanied – with a former KGB agent during his time as Foreign Secretary, Boris Johnson is hit with a world beating volume of government resignations: over 50 in less than 48 hours. What a lot of churn! Surrounded by speakers blasting the Benny Hill theme into 10 Downing Street, Boris Johnson finally decides to call it a day… or does he? He appears at the podium and delivers a bombastic self congratulatory speech which sounds a little like a resignation, but then returns to duty, later revealing that he will remain in place for the time being as a "care-taker" PM. Seconds later, Rishi Sunak, who had been among the very first to resign mere days before, publishes his campaign video to be the next leader of the Conservative party. Suffice it to say, there was plenty to chew on for amateur and professional satirists alike, as an unprecedented wave of surreal, incredulous and downright farcical gifs, memes, tweets and sketches subsumed the internet. In this episode, Adam and Jo pick through and discuss some of the satirical highs and lows of this weird week in politics, before calling upon the expertise of Professor Robert Phiddian, author of Satire and the Public Emotions (CUP) to try to understand what all of this might tell us about satire's relationship to what neuroscience names the CAD Triad of Emotions: Contempt, Anger and Disgust. And finally, they also launch the Smith & Waugh Satirical Summer Reading Challenge.
---
Did you have a good street party this weekend? Did you get tangled up in bunting? Did you wrestle with a gazebo? Did your neighbor try to start a conga? Did you encounter a Platinum Pudding Maker? No, neither did Adam and Jo. As the nation is strongly encouraged to partake in a frenzy of patriotic worship and monarchical affirmation, Jo and Adam consider the long tradition in British Royal Satire (dating back, of course, to the eighteenth century) before picking out a couple of key satirical moments from the jubilee celebrations (and their immediate aftermath).
---
Jo and "Adam" bring listeners up to speed on some shocking backstage drama in the land of Smith & Waugh before taking a deep dive into the weird world of satirical hoaxing. On a quest to clarify the difference between a regular hoax and a satirical hoax, your intrepid hosts gloss the history of literary hoaxes before examining a series of mind-bending modern examples of the form. Did a stand-up comedian called Liam Evans really advocate for "problematic" comedians to be prosecuted using hate crime laws? Did Gwyneth Paltrow really try to sell a diamond-encrusted disposable "diaper" for $200? Are second grade teachers in Austin Texas really teaching young students about the "Furries" as part of a week celebrating sub-culture? Did an activist really believe he could bring peace to the Berkley Protests by giving away free cans of Pepsi Cola? And is there really a movement in America dedicated to proving that all birds have been replaced by deep state surveillance robots? Adam and Jo also welcome onto the show their new unpaid intern, Human Geographer and Music-Maker, Dr Benjamin Garlick.
---
Jo and Adam are joined by poet, author and academic Sam Riviere for a wide ranging conversation about satire, originality, plagiarism, the inherent challenges of existing in a world where performance and genuine participation have become indistinguishable and, well, just about all of the problems with everything really… In addition to being a celebrated, award-winning author, Sam is also often described as writing satire "fueled by genuine rage." Adam and Jo talk about the long-standing relationship between satire and rage (or at the very least, the performance of rage) before asking Sam if he feels like "genuine rage" is really the engine of his own satire, with particular reference to his recent debut novel Dead Souls. Dead Souls appears, on the surface, to satirize the contemporary poetry/small art publishing scene but, as the novel progresses its satirical impulses spiral outwards to skewer almost everything about life in later-stage capitalism including but not limited to: the culture sector, higher education and social media. Elsewhere in the episode Jo and Adam offer the internet's very last take on Will Smith slapping Chris Rock at the Oscars (is it a useful analogy for how satire works???) and reflect on their recent experience of interviewing the viral internet comedian and animator Alistair Beckett King.
---
As Russia invades Ukraine, Jo and Adam ponder the most pressing question: what does the first European conflict in decades will mean for satire? They also reflect on the unlikely backstory of Ukrainian President Volodymyr Zelenskyy who, in the ultimate case of satire imitating life, fronted a satirical sitcom in which he played a man who surprisingly became the Ukrainian President in the years immediately before he surprisingly became Ukrainian President. Then they discuss a recent Guardian AMA with (close personal friend of the podcast?) Armando Iannucci. And then, at last, after talking about all those topical men, they finally mark IWD22 by forging visibility for women by celebrating the achievements of two satirical women: Eliza Haywood (and her periodical The Parrot) and Eliza Haywood.
---
Happy Anniversary to SAWTAS! It's been three years to the day since Adam and Jo first took to the airwaves. In this episode, they reflect on their tremendous and unlooked-for success, and take a moment to consider whether it's possible to talk about satire without being pretentious (spoiler: yes). Once that's established, they talk to special guest Dr Andrew Bricker from Ghent University about satire, libel, and the law, and the ways that all of those things were connected in our very favourite century, the eighteenth one. We explore how the law responded to satirists, and how satirical work shaped libel laws in that period, and consider the legacies of that relationship today. Along the way, we hear about a fascinating addendum to the Jonathan Swift/Lady Mary Montagu dressing-room-based scrap, talk about cancellations, comedy, and a little bit of Brontë business too. From twenty-first century pseuds (not us, we're talking about Private Eye) to eighteenth-century feuds – it's our anniversary and we'll talk about satire if we want to.
Andrew, author of Libel and Lampoon: Satire in the Courts 1670-1792 (Oxford University Press, 2022), will also be joining us at the York Literature Festival in March.
---
As the fabric of the social contract in Britain further disintegrates in the wake of increasingly outrageous revelations about behaviour behind closed doors at 10 Downing Street during the height of the Covid-19 pandemic, Jo and Adam talk about the one divisive topic that's really gotten everyone really raging in this cold, miserable month of January: Adam McKay's Netflix original movie Don't Look Up! Is it too smug? Is it too simple? Is it too self-satisfied? Is it too satirical, or not satirical enough? These are the questions that polarised everyone over the holidays, and they're the questions Adam and Jo are wading into in this episode, which takes as its theme the end of the f*cking world. They also talk about Ben Elton's 1989 satirical novel Stark, which tackles very similar ground to McKay's film only with "total toxic overload" as the catastrophic and unstoppable threat to human civilisation rather than a huge flaming meteor that everyone can literally see coming. And, of course, they'll also reflect on satirical responses to Party-Gate. They just hope the PM can hang on long enough for this episode to come out and still be relevant…
---
Christmas isn't Christmas until everyone is dead of a new mutant variant! Only kidding. Christmas isn't really Christmas until Jo and Adam have dropped their self-indulgent Christmas episode, and this year they've pulled out all of the stops and thrown a big illegal party in 10 Downing Street during a national lockdown and the police are refusing to investigate. Only Kidding. It isn't a party, it's a gathering. It's cheese and wine. Ok, it's not really any of those, it's a podcast, but as you can imagine the question of whether a party quacks like a duck, and whether that duck can be satirised, is occupying a lot of Adam and Jo's headspace this Christmas. But never mind that now. All's you need to know is Jo and Adam are here with some Christmas consumer advice on what to get the satire fan in your satirical fam: Armando Iannuci's mock-epic satire on COVID-times, Pandemonium, and Sam Riviere's multi-layered satire on the creative arts, Dead Souls. Merry Satirical Christmas, one and all.
---
In a special bonus episode Adam and Jo are joined once again by novelist and culture writer Kat Rosenfield for a deep dive into one of the strangest literary scandals of recent years, and that is the scandal of the Bad Art Friend Scandal. If you haven't heard about this yet, fear not, because Jo, Adam and Kat explain all before returning to the short story at the heart of this scandal, Sonya Larson's The Kindest, and ask: could it be satire?
---
Jo and Adam are joined by culture writer, podcaster and novelist Kat Rosenfield to discuss the challenges faced by the satirist in 2021, the state of satire in young adult fiction and Kat's brand new novel No One Will Miss Her, which The Washington Post has described as "amusingly satirical and darkly bloody." Kat has reported for MTV News and her work has appeared in such outlets as Wired, Vulture, Entertainment Weekly, Unherd, Playboy, The Spectator (USA) and Reason. She's the author of many novels, including Amelia Anne is Dead and Gone (2012) and Inland (2014), she collaborated with Stan Lee on The Alliances and she is co-host of the hit podcast Feminine Chaos.
---
In this momentous episode, Jo and Adam finally return to their trusty recording booth for the first episode to be recorded in-person and on-location since March 2020. Once back in the booth Adam and Jo mark the anniversary of Chris Morris's Brass Eye Special, "Paedogeddon!", which remains one of the twenty-first-century's most polarizing and controversial works of satire twenty years later. They're joined by Dr Robert Edgar, Senior Lecturer in Film and Media and fellow member of the York Research Unit for the Study of Satire (YRUSOS), who helps them determine whether or not Morris is a classic satirist in the Juvenallian tradition of Jonathan Swift and Alexander Pope or indeed, as he was branded by the tabloid press at the time, some kind of demented "media terrorist." Jo and Adam also revisit their discussion of Bo Burnham's Inside from the last episode and add a few further, qualifying reflections. This is satire, reboothed.
---
In the second half of Adam and Jo's wide-ranging conversation with poet/novelist/journalist/satirist Leigh Stein, they turn their attention to the target's of satire in Leigh's latest collection: What To Miss When (Penguin, 2021). Did the "cancel culture" phenomenon intensify during the pandemic because a lot of people were locked down with nothing to do but manufacture outrage and demand moral purity? Is there a difference between a Karen and a B*tch? And was there more to our intense but fleeting obsession with Tiger King than met the eye? Jo and Adam also take a look at Bo Burnham's Netflix musical special, Inside, and wonder whether or not they've missed something crucial…
---
Jo and Adam are joined by returning guest, poet/novelist/journalist/satirist Leigh Stein for a discussion of her new collection of satire-inflected pandemic poetry, What To Miss When (Penguin, 2021). In a wide-range discussion, Adam and Jo also talk about: the power and purpose of poetry and its potential as an effective medium for satire; the challenges that confront anyone hoping to represent the first year of Covid-19; and what kind of satirical poem they themselves would write if ever they were required to do so.
---
Popular Edgelords Jo Waugh and Adam Smith are joined by Nicole Graham to talk about the popular card game 'Cards Against Humanity.' The game's own promotional materials claim that is it intended as a work of satire, but is it really? Nicole discusses her recent book chapter 'Laughing with Horrible People: Reaffirming Ethical Boundaries Through Laughter' in which she applies an eighteenth-century framework for understanding humour to the famously offensive card game to determine how it works and who is culpable for the cards played during a game should they cause upset or offense. Jo and Adam also talk about their own relationship with board games, CAH's imminent cancellation and what happened when the government decided to use a very familiar font when sending out their important announcement about Coronavirus.
---
As the temperature finally rises, but so to do infection rates, Adam and Jo take an episode to reflect on satire released during the between times: that is, the time between lockdown and the often-promised full easing of restrictions. These include: the second season of This Time with Alan Partridge, Borat's American Lockdown and Borat Debunked and a recent exhibition of juvenile satire on display at the Foundling Museum. Along the way Jo and Adam also think about "cancel culture", whether it exists and what it's relationship might be to comedy and satire.
Listen to the full episode!
---
Do you ever wonder… what's the point? Liars and cheats prosper and gain power, the hypocritical, the criminal, the venal, the self-interested, the arrogant and the cruel seem to get away with whatever they want. Statistics and figures are cynically manipulated for cynical ends. The average person has no voice and no power, no real chance to change anything or be heard. Everything gets worse and worse, we're all afraid, nothing really seems stable, and nobody with power can be trusted. Well, satire can help! Adam and Jo are joined by Dr Dieter Declercq, author of Satire, Comedy and Mental Health: Coping with the Limits of Critique, to talk about the extent to which satire can help sustain good mental health in a troubled socio-political world.
---
Is satire fundamentally left wing or right wing? Does the BBC now have a right wing agenda? Can right wing comedy actually be funny? And was all this really the reason The Mash Report got cancelled? Jo and Adam talk about all of this and more (including their own shocking Political Compass Results!!!) in this all new episode, also featuring a chat with recovering stand-up comic and scholar of comedy, Seb Bloomfield.
---
Jo and Adam #ChooseToChallenge this International Women's Day by seeking out and celebrating some of their favourite female satirists from literary history: Mary Leopor and Stella Gibbons. Especially devoted listeners may also choose to stick around after the closing music for an extra treat.
---
Stop talking about Valentine's Day and start talking about Smith & Waugh Talk About Satire Day! That's right, this episode marks exactly two years since the first episode dropped on 14 February 2019. For this very special anniversary episode Jo and Adam are joined by author Oli Grant to discuss his book How To Live Well The North Korean Way, a satire on the nature of self-help books and their efforts to selectively appropriate, repackage and commodify aspects of other cultures. They also ask whether or not Jo has any authority here or if Adam has read the script and understood it.
---
In the second part of this wide-ranging interview with satirist, comedian and cultural commentator Andrew Doyle , conversation turns to touch on cancel culture and the culture wars as Andrew explains what is at stake in his satirical project. Jo and Adam also take time to reflect on Charlie Brooker's latest production, the Netflix mocumentary Death to 2020, and Jo reveals her clever idea for a new kind of national service.
---
18 months after he first appeared on the podcast (Episode 8. Satire: Woke Politics and Political Tribalism), Adam and Jo welcome satirist, comedian, writer and cultural commentator Andrew Doyle to discuss life as the man behind Titania McGrath during 2020, and to discuss Titania's latest book: My First Little Book Of Intersectional Activism.
---
Sometimes, a phrase pops into your head that seems too good not to use, even though sometimes it was plenty weak enough to leave alone. So it is in this episode of the 9th best satire podcast with 'Karen and Gammon Talk About Salmon', Adam and Jo find out as they labour the joke to be sure it won't work. They then talk about satirical books at Christmas time, Christmas itself, and some of the adverts that have happened this year.
---
Poor Unfortunate Adam is trapped in his flat with only his memories for company, having been outed as the Saboteur in CBBC's Trapped – or possibly just been near too many phones. Jo has decorated her study with subversive prints and a Jane Area, but has now run out of things to do as lockdown looms: what to do? The only way out of their own Infernos is to chat about some recent satire, including Spitting Image and some good stuff as well. There's been plenty emerging recently, so it's time for Adam and Jo to take centre stage as the main event, and talk about it. They also muse on the inconsistencies of Serco's Track and Trace app, their respective failures to impress Cambridge Admissions Tutors, and the impossibility of telling whether someone is a ghost or not when you can't touch people any more. Join us in our personal Bly Manors. It's our podcast!
---
Jo and Adam are joined once again by novelist Leigh Stein for the second half of an interview about Self-Care, Leigh's new satire on the wellness industry. This time, they talk about offence, cancel culture, privilege, the presentation of victimhood on social media, and Leigh's approach to navigating (and skewering) all of these factors and more. Adam and Jo also talk about 'Lockdown Sceptics' and the bizarre dating site: Love in a Covid Climate.
---
Jo and Adam are joined by Leigh Stein, author of the new satirical novel Self Care, to talk about the wellness industry, women, forms of feminism (or things that look like feminism), social media, soundbites, and the relationships between wellness, wokeness, and capitalism. So, give yourself permission to listen to our intuition.
---
In this long awaited and highly anticipated episode, Adam and Jo discuss comedy, humour, offence, a fence, and much more, with very special guest Dr Sharon Lockyer. Is social justice a legitimate target for satire, or can comedy promote its causes? When it comes to crossing the line, how far is too far? Should Fawlty Towers be cancelled? Was Little Britain ever funny? Is it satire to imply Sir Keir Starmer has a lot of underpants?
---
After pestering listeners to give them a yell for the past 18 months, Jo and Adam finally take a minute (or rather 63) to respond to all of the comments, questions and queries that have either landed in their satirical inbox (satirenomore@gmail.com) or hit them up in socials. Some are real, some are fictional, but each inspires a compelling, controversial or comedic discussion of the form, function, history and future of satire. And, since this is a bonus episode, Adam and Jo also take this opportunity to homage two of their own favourite podcasts.
---
As unprecedented times become the new normal, Jo and Adam return for another unprecedented episode which follows the precedent set by the last unprecedented episode they released in May. That's right, it's time for another Satire in Lockdown Round-Up! With the government's new and confusing message proving almost as viral as the virus, the PM's chief advisor flagrantly breaking the rules he helped to write and everyone else communicating almost exclusively through Zoom, there's been plenty of fodder for the satirists.
---
We're living in unprecedented times: life is imitating art and satire as well. But can satire itself survive the virus? Who's been satirising what, and has it even remotely helped?
---
In episode 6 of season 2, Jo and Adam talk to Dr Sarah Burnage, curator of Fairfax House, about the peculiar challenges of presenting historical satire to contemporary audiences. Is satire more dependant on context than other literary forms, comedic or otherwise? What happens when satire is severed from its moment of production? When does satire becomes propaganda or misinformation? Sarah talks about her longstanding interest in eighteenth-century art history, and how she came to forge a career in the heritage industry. She also shares her experience curating an exhibition all about the savage satire of James Gillray in the summer of 2019.
---
In episode 5 of season 2, Adam and Jo talk to comedian Janey Godley, about satire, swearing, and elitism. Janey hit the headlines in 2016 when she held a sign stating that "Trump is a C*nt" during Donald Trump's visit to the Turnberry Golf Resort, but she's also been a successful stand-up comedian for over 20 years, as well as a regular on Have I Got News for You and Radio 4's Just A Minute and the maker of comedy voice-over clips which she posts on Twitter. So – can anyone do satire? Well, one of the three of us in this episode definitely can: the other two try their best.
---
In the first episode of 2020, Jo and Adam pick out the biggest moments of satire from the past 12 months. This was the year that saw Alan Partridge return to the small screen, Chris Morris return to the big screen and Stewart Lee return to the stage. In the news, it also gave us #Hairgate, Fact Check UK and a Brexit that was always just around the corner.
---
---
In their very first Christmas episode, Jo and Adam take a break from asking whether satire is dead, and imagine what it might have been like if it had never been born at all. No expense has been spared on members of the cast, as they take a rollercoaster ride through a very partial history of satire. They then discuss the satirical possibilities of Christmas itself, and are joined by Dr Matt Colbeck of the virtuoso Math Rock band, Creepjoint to ponder this.
Listen to the full episode!
---
In episode 1 of season 2, anonymous Twitter account DM Reporter commented that you can't be a satirist if you write for the Daily Mail. In this episode Adam and Jo talk to Andrew Doyle about that argument, and about Andrew's own satirical Twitter account, "Titania McGrath." Who are his targets, and how does he hope to change their minds? Is there any hope for the future? And exactly what was wrong with Frankie Boyle's "joke" about Katie Price and her son?
---
Unlike Alan Partridge, Adam and Jo got a second season, and they use this first episode to talk to the anonymous author on long-running parody Twitter account DM Reporter about how he got started, what it is like trolling the Daily Mail for almost a decade, why he can't stop and whether or not it is satire just to say crazy things that people people have up-voted.
---
Adam and Jo plan the forthcoming series, reflecting on the challenges that might arise from shifting the focus from scholars of satire to its contemporary practitioners, such as Andrew Doyle, Janey Godley and the DM Reporter. They also discuss Shropshire Farm Foods, a delicious ready mean delivered to your very door.
---
Has satire ever really been a "man's game"? Does satire work differently when written by women? Or when women are the targets? How is sexuality treated by satire? Adam and Jo are joined by Professor Karen Harvey (University of Birmingham) to talk about satire, sex and gender.
Release date: 4/7/2019
---
Should satire make us laugh? Is satire always funny? Why do we laugh at things anyway? Adam and Jo are joined by Dr Kate Davison (University of Sheffield) to talk about the social history of laughter, and the various satires of the eighteenth-century tavern keeper Ned Ward.
Release date: 13/6/2019
---
Do you need words to do satire? If a picture can say a thousand words, how much satire can it do? Adam and Jo are joined by Wendy McGlashan (University of Aberdeen) to talk about eighteenth-century print-maker, miniaturist and satire merchant, John Kay.
Release date: 9/5/2019
---
What is the difference between a satirical novel and a novel with satire in it? Adam and Jo are joined by Dr Helen Williams (Northumbria University) to talk about one of the best known satirical novels of all time: Laurence Sterne's The Life and Opinions of Tristram Shandy, Gent.
Release date: 11/4/2019
---
Adam and Jo start at the very beginning with the biggest question of all: what even is satire? What did it used to be in the olden days and what is it now, in the age of Twitter, Trump and Brexit?