York St John University and City of York Council have teamed up with REACH – York's cultural education partnership to produce 'Creative Doodle Books'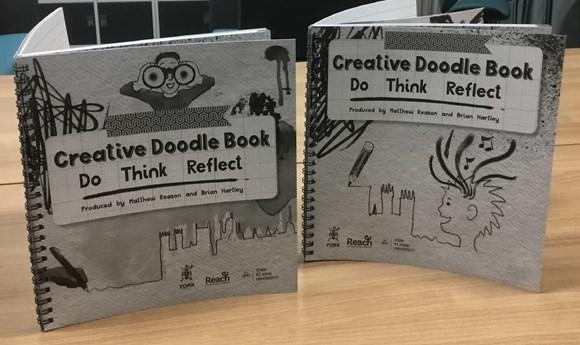 Two thousand children and young people across York have received a holiday activity pack to help support them, and their parents and carers over the summer holiday. Each book is full of creative drawing and writing ideas for the young people to do in their own time. One pack is aimed at KS2 children,7-11 olds; the other at those in KS3, 12-14 year olds. The packs have been distributed to children and young people who are currently working with the council's social care teams, and those receiving free school meals.
The Doodle Book was developed by Matthew Reason through the course of 2019/20 in collaboration with Mind the Gap Theatre Company, artist Brian Hartley. The objective was to create a resource that would support individuals engage in creative and reflective thinking. The Doodle Book concept was inspired by a tradition of creative toolkits and models within the arts, that often provide tasks, instructions, playful prompts and activities. Examples include Julia Cameron's The Artists Way, the Goat Island School Book and Keri Smith's Wreck this Journal.

Councillor Ian Cuthbertson, City of York Council's Executive Member for Children, Young People and Education, said: "We know that the Coronavirus pandemic has added additional pressures to all families, and for some, keeping their children entertained during the summer holidays is an extra worry. Encouraging creativity is a fantastic way to improve a child's confidence and support their learning. I hope that children and their families are enjoying dipping in and out of the books."
Chris Edwards, Chair of REACH, York's cultural education partnership, said: "I am delighted that REACH, York's Cultural Education Partnership, has worked with York St John University and City of York Council to produce these brilliant resources. Creativity, the arts and culture have such an important impact on young people's mental health and well-being as well as helping to develop the skills needed to thrive and succeed at school, at work and in life in general. In these extraordinary times the Creative Doodle Books will bring some activities and ideas and make a real difference to some very special children and young people across the City of York."
Matthew Reason, Professor of Theatre at York St John University, who designed the content for the books, said: "Creativity is a kind of freedom. It's about being imaginative, adventurous and discovering new things about both ourselves and the world around us. Sometimes, however, we need a little help to get over the fear of the blank page. These books are full of ideas designed to help get young people doing, thinking and reflecting in creative ways."